Over $4 million has been provided in grants since 2005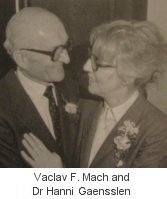 The Mach-Gaensslen Foundation of Canada honours the lives of Vaclav F. Mach and Dr. Hanni Gaensslen by supporting research related to the fields of cardiology, oncology, and psychiatry. The foundation supports student research at Canadian medical schools.
The grants not only enable students to conduct medical research during their time at university, but also encourage them to make research an ongoing part of their careers.
The First Royal-Mach-Gaensslen Prize for Mental Health is Awarded to Dr. Jean Martin Beaulieu
Inaugural prize recognizes innovative research that may lead to improved drug therapies for bipolar disorder and other mental illness
OTTAWA, ONTARIO (October 28, 2015) - The Royal has named Dr. Jean Martin Beaulieu the inaugural recipient of The Royal-Mach-Gaensslen Prize for Mental Health Research which supports Canadian early-career researchers in mental health and encourages them to continue to pursue their research in Canada. The annual prize provides $100,000 to support the recipient's research activities. MORE...
2016 grant application package now available