A pioneering research program that translates research evidence into resources to improve student mental health outcomes, started at Queen's University in Kingston, Ontario, has surpassed its goals. The resources can be sustained over years and scaled to the different needs and sizes of institutions, helping students at other Canadian and international universities.
A unique research program conducted in partnership with students brings together research to understand what university students need and what contributes to their mental health, on the one hand, and engaging, evidence-informed solutions and resources to meet those needs, on the other. This program was made possible through funding from the Mach-Gaensslen Foundation of Canada.
The funding helped Dr. Anne Duffy, the principal investigator, develop and expand preliminary research funded by the Canadian Institutes of Health Research (CIHR) into a research program called "U-Flourish." She says the interlinked projects would have been difficult to fund through traditional granting programs.
Mental health on campus
Rising rates of mental health problems and demand for mental health services have overwhelmed postsecondary campuses in recent years. Duffy, a psychiatrist and professor at Queen's University in Kingston, Ontario, and visiting professor at Oxford University in the United Kingdom, says data from the UK show that "young people today are more likely than in previous generations to experience common mental health disorders such as depression and anxiety." This is particularly the case among young women. Self-harm is increasing in young people (especially girls and women), and the suicide rate has increased slightly (especially in boys and men).
"Mental health issues are too common among university students," says Dr. Christopher Carruthers, Chair of the Mach-Gaensslen Foundation of Canada. "Research, prevention methods and treatment options are critical to address the challenge." This is why the foundation enthusiastically supported this research with a grant of more than $700,000 over 3 years (September 2020 to September 2023).
University student mental health is a perennial issue, says Duffy. Records show concern about student mental health after World War II and during the 1960s in North America and the UK. Queen's University held a national meeting to discuss a way forward on student mental health in 1963, and the themes raised are similar to those under discussion today. The transition to postsecondary education has always been "a leap," says Duffy, "at a time when brain development especially in regions governing planning, self-regulation and judgment is still very much a work in progress."
Students also face social pressures making new friends and adapting to a new environment. In addition, more so today, postsecondary students face financial and academic pressures as enrolment widens and competition increases. Duffy also pointed out that international students face the additional challenge of having to adapt not only to a new culture but also, in some cases, a learning style much different from that in their home country.
Helping students: data needed
Efforts to help students — from health promotion to care pathways — have rarely been systematically evaluated or studied. As a result, there is a lack of data about what works, for whom and how. There is also a recognized need for initiatives to fit into a cohesive framework, such as the stepped-care model used in this program. Authoritative papers and publications all point to the need for reliable, large-scale, longitudinal data that track students' journeys and outcomes over the transition to and through university.
With a small start-up grant from CIHR, in partnership with the Rossy Foundation, Duffy's team started addressing the gaps and needs by engaging students in conversation from entry to university using a survey administered online. Engaging students in the work has been part of the program since the beginning, with two student co-leads developing a student-led engagement campaign. When this funding ended, the Mach-Gaensslen Foundation stepped in to support an expanded translational program, allowing it to continue and evolve seamlessly.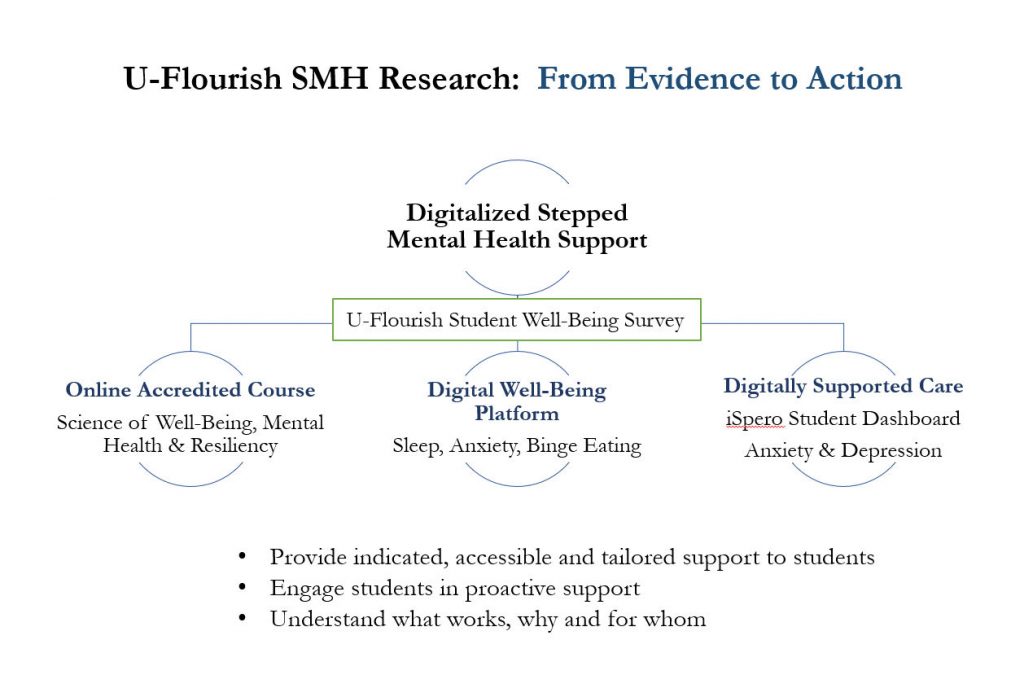 In 2018, the U-Flourish Student Well-Being Survey started to provide data on the well-being of students and factors that put students at risk or protect them from mental health problems. The survey, offered to all incoming undergraduate students, was completed by a "phenomenal" 60% of first-year undergraduates. The students are followed with repeat surveys twice a year throughout their 4 years of undergraduate education. To date, 10,808 Queen's students have taken the survey at least once. The survey has been adapted and launched at Oxford University since the fall of 2019 and at the University of Ottawa as both French and English versions in the fall of 2022.
The U-Flourish survey is the first longitudinal, methodologically rigorous study of its kind in Canadian and UK universities. It has already resulted in several high-impact publications in partnership with students. Among the results, it found that about 30% of incoming first-year students suffer clinically significant symptoms of anxiety and depression, and rates are higher at the end of first year. Further, social connectedness, sleep quality, exercise frequency, and substance use were identified as important targets for health promotion. The timing of the survey also allowed Duffy's team to compare mental health before and during the pandemic, finding that students had higher rates of symptoms during the pandemic than before, but drank alcohol less, possibly because of a lack of opportunities to socialize. Cannabis use remained unchanged.
The survey results provide "one of the richest databases on student mental health," says Duffy. "We have core measures and we can add optional or timely questions as they arise."
Developing interventions, step by step
With this evidence base, the U-Flourish research program has taken a "stepped-care approach" to intervention, as recommended in the peer-reviewed literature. This model starts with the least intensive and moves through to more intensive support, tailored to the needs of the target population.
The least intensive step, considered a "universal approach" that should benefit most students, is an undergraduate course on mental health literacy. Duffy developed the course with graduate student Simone Cunningham, and it was launched at Queen's in January 2021, enrolling an initial class of 50 students. The fully digital course is interdisciplinary and gives students credits toward their degree. It has been repeated every semester and is very popular. Classes are filled to capacity, and that capacity has progressively expanded to 350 students each of three terms starting in fall 2022. Almost 2,000 students have now completed the course at Queen's.
The course is being adapted for the University of Ottawa in a bilingual format, to be offered to first-year medical students in 2023. In addition, Duffy has worked with UK colleagues to adapt the course for evaluation across six UK universities. She has also developed a brief 20-hour version intended for high school students preparing for the transition to university, being piloted at the University of British Columbia this summer.
Preliminary findings show that course participation is associated with a significant positive impact on mental health knowledge, emotional self-awareness, and stigma reduction, as well as reduced anxiety and substance use and improved sleep.
The next "step" is an app developed with students to help them monitor their well-being, provide evidence-based well-being plans they can follow and automated feedback, and suggest resources based on student's entries. This digital well-being app on the i-Spero platform was first piloted in the winter of 2022 at Queen's and is now being expanded in response to feedback from the pilot.
Duffy says evaluation of the pilot showed students liked using digital tools as part of their university well-being support. But many didn't stick with it, a common finding with self-guided interventions. Students had plenty of good suggestions for improvements. "Students expressed the need for more abbreviated self-monitoring measures, a more intuitive platform to use on their phones, and for more immediate support from the app," says Duffy, all of which are being considered in the next version of the platform.
For students who need more help, another module uses an adapted version of the same i-Spero digital platform. This module allows students and health care providers to keep track of symptom levels over the course of treatment and to plan clinic visits to meet individual needs. They can share this information with any care providers, from counsellors at university wellness centres to their family physician, to their psychiatrist. This is called "digitally supported care."
While the grant from the Mach-Gaensslen Foundation of Canada has come to an end, U-Flourish will continue and grow, supported by a new CIHR grant (in partnership with the Rossy Foundation) over the next 4 years. Additional partner funding from the McCall MacBain Foundation will support the team to further develop and improve the digital well-being app. There are plans to bring U-Flourish to new campuses, with the University of Calgary next in line. The researchers are sharing insights from the research, in 11 research papers published to date and four underway.
Duffy describes the team's combined research and interventions for student mental health, achieved in partnership with students and funders, as "a whole new field of research." It's one that will lead to better mental health for generations of students to come.
---
See All News