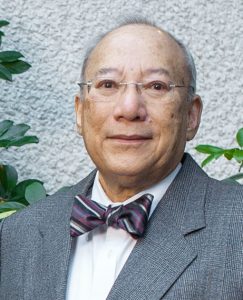 The Mach-Gaensslen Foundation of Canada lost a dynamic director and Ottawa lost a leading psychiatrist who advocated for his patients when Wayne Quan died on 9 August 2021, following a brief battle with kidney cancer.
Wayne's family had roots in Canada, China, and Scotland. His grandparents met in Toronto, where both were newcomers — his grandfather from China and his grandmother from Scotland. However, their son, Wayne's father, returned to China for his education, where he married and where Wayne was born. Wayne's family moved to Toronto when Wayne was young — a return for his father, and a new country for his mother.
After graduating from the University of Toronto medical school in 1972, Wayne did a residency in Ottawa, where he met his wife, Martha Donovan, settled down and raised sons Ian and Bryan.
Ottawa gained a psychiatrist whose work helped shape the community — both by benefiting his patients and influencing his peers. He was one of the founders and the original managing editor of the Psychiatric Journal of the University of Ottawa (now the Journal of Psychiatry and Neuroscience) from 1976 to 1983. For over 30 years, he provided treatment to young doctors as the health care coordinator for PAIRO in Ottawa. He also provided consultation services to the Forensic Section of the Royal Ottawa Hospital for several decades. He served as director of the Psychiatric Outpatient Department of the Ottawa General Hospital, where he pioneered the psychosocial treatment of schizophrenia with the involvement of St. Brigid's Church and the volunteer auxiliary of the hospital.
His work with the Mach-Gaensslen Foundation began in 2016. As a mental health specialist, he provided valuable insight into where the foundation could make a difference in mental health and took a close interest in the mental health research of grant and prize recipients.
Wayne had a practical approach to therapy and an innate ability to connect with his patients through empathy, kindness, and humour. His jokes — many of them "groaners" — were legendary and often lightened situations. On a more serious note, he was driven by a deep sense of justice and advocated for his patients. After suffering a stroke in 2019, he made the difficult but necessary decision to close his practice and retire.
---
See All News